Not long after the light novel Mushoku Tensei – Jobless Reincarnation ended in volume 26, the author revealed that a plan for a new protagonist's sequel is being prepared! Is it the story of Rudeus's descendants? Details are as follows!
What is Mushoku Tensei?
Mushoku Tensei: Isekai Ittara Honkai Dasu – Seven Job Reincarnation: To Another World I'll Take It Seriously is a light novel by Rifujin Na Magonote. The work began to be released in 2014 and ended at the end of 2022 with a total of 26 volumes.
Mushoku Tensei belongs to the genre of action, isekai, ecchi. The main character of the story is Rudeus, the boy who was reincarnated by a NEET man. Starting life in the new world, Rudeus thought he would live happily and peacefully. However, a disaster happened, sending him on a journey full of dangers and challenges.
In October 2021, the Mushoku Tensei anime made by Studio Bind debuted to a global audience. With the well-organized sound visuals and quality storyline, Mushoku Tensei has received a lot of positive feedback. Part 2 was released not long after that, it also achieved very good results, creating an opportunity for parts 2 and 3 to be put into practice.
See more: Anime Mushoku Tensei season 2 – Unemployed Reincarnation Part 2 releases trailer, released in 2023
Author Mushoku Tensei will create a side story with a new character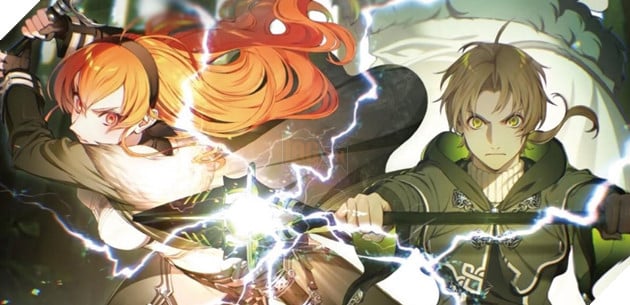 Not long ago, Mushoku Tensei was announced to end with the light novel volume vol.26. Unemployment officially ended at this time which is quite appropriate because the story has gone far enough and the problems have also been resolved. Although there are still people who can see it, 26 volumes are probably enough to perfect the integrity of Mushoku Tensei.
See more: Author Goblin Slayer collaborates with artist Overlord on new dark fantasy light novel!
While information about the ending of Mushoku Tensei is still circulating on social networks, author Rifujin Na Magonote has shared a few words that he is planning a sequel to Mushoku Tensei. The plot of this installment will take place 80 years after the events of the original story with a completely new protagonist. Many speculated that the person was one of Rudeus's children or grandchildren.
According to the information revealed, Rifujin Na Magonote will not be writing a side story in a hurry. He said he will wait a few more years for Mushoku Tensei to be adapted into an anime before starting a new work.
It will be the story 80 years after Mushoku Tensei ends. This work will have a length depending on how long it takes for the entire Orc Eiyuu Monogatari: Gontaku Retsuden arc to end. Maybe 3 – 8 years from now? Also, I have no intention of writing this story as a sequel to Mushoku Tensei.
Until now, information about the sequel of Mushoku Tensei is still a mystery. Are you looking forward to this light novel? Are you looking forward to Mushoku Tensei and the whole sequel to an anime adaptation? Please leave a comment so we can chat together.
See more: Sword Art Online author creates new light novel about MMORPG game
Join the anime manga fan community and stay up to date with hot news here: