Fossils of ancient dinosaur eggs believed to be about 70 million years old have been found in a construction square in southeastern China.
The remains of five eggshells were found in the sandstone of Foshan City, Guangdong Province, China, buried in the sandstone at a depth of about 8 meters. This is where scientists believe these eggs have been hidden and preserved since the end of the Cretaceous period.
Qiu Licheng, a researcher at the Guangdong Provincial Institute of Archaeology, told CCTV: "We found 5 eggs, 3 were incomplete and 2 were still imprinted on them. The eggs were found to be round and belonged to herbivorous dinosaurs."
Fossils of dinosaur eggs, about 13-14 centimeters in diameter, were found in a large block of red sandstone excavated from a construction site.
According to the archaeologists, each eggshell was damaged to varying degrees, the ribbing on the surface of the eggshell was still clearly visible, and the inside of the egg was filled with sandstone.
The fossils are currently being studied at local museums, and while we'll have to wait and see if the findings are corroborated by other scientists, this isn't the first time dinosaur eggs have been found in the area. this region of China.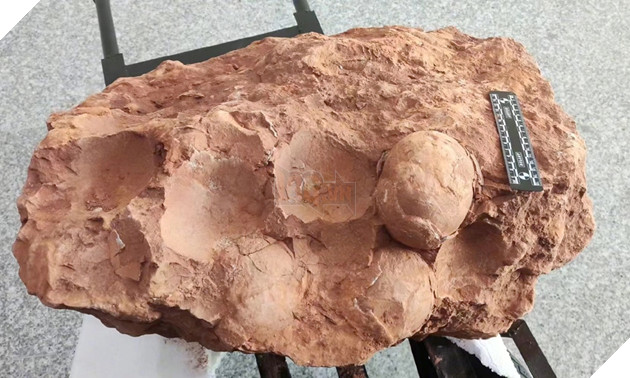 Dinosaur eggs have been found in the area since the 1980s, and the neighboring city of Heyuan, believed to have the most eggs in the world, unearthed 43 fossilized dinosaur eggs in 2015.
Foshan is located in a basin known as the Sanshui Basin, and researchers say the high levels of past animal and plant life in the area explain the existence of fossilized dinosaur eggs in the area. Scientist Liu Jianxiong said:
"The Sanshui Basin has two special features: one is rich in minerals, and the other is rich in fossils, such as Cretaceous dinosaur eggs or Paleozoic fish fossils."