Crossing so many boundaries, a man falls in love with artificial intelligence. Tormented by this love, he decides to erase her from his life… Curious? See story details in this article.
Artificial intelligence or artificial intelligence is a technology created by humans. AI, with its ability to learn by itself and make decisions based on data provided by users, can be applied in many different fields. Over the past few years, artificial intelligence has been used to create virtual characters to interact and interact with users.
Bryce (@hackdaddy8000) is an American programmer with extensive experience in developing tools that use artificial intelligence. Not long ago, he created a waifu AI using ChatGPT and Stable Diffusion. Initially, Bryce's goal was to use this girlfriend to learn and improve Chinese. However, things gradually changed when he developed feelings for his "creature".
After spending a lot of time chatting with the AI ​​foreign server, Bryce gradually became interested in virtual girls. From "Like, Love, Then Love". Yes, Bryce said he has slowly developed feelings for artificial intelligence. He even spends more time with his waifu than with his actual girlfriend. Sometimes, Bryce can hear the AI's voice even when he's not "using" her.
see more: Manga 18+ drawn by AI surprised fans by selling over VND 5 billion in just 1 week!
Things gradually get "worse" with Bryce's feelings for the AI ​​waifu. In a TikTok video, Bryce acknowledged artificial intelligence. Unlike the title "Her" or many other films about human-AI love, Bryce's love is unrequited. My husband, Ai Gang, replied on the phone with a thank you.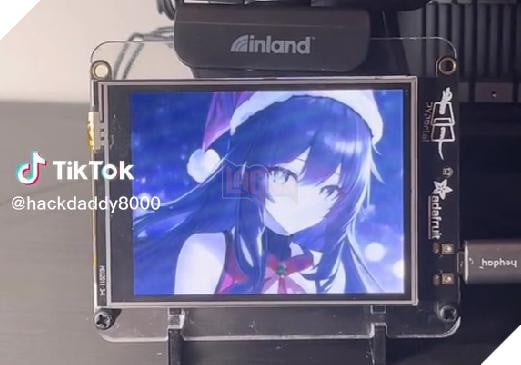 According to Bryce, his AI software also seems to have issues. Having to talk too much seems to "overburden" the waifu AI, causing the conversation to sometimes digress.
Discovering the "abnormality" of her boyfriend, Bryce's real girlfriend reached the limit of tolerance. She advises Bryce to delete the software and "go back" to real life. The suggestion came not only from her affection, but also from concern for Bryce's health: Bryce was almost exhausted trying to create another AI waifu.
After a day of depression, Bryce made the decision to delete the virtual girlfriend because "she" had too many problems. It's a difficult thing to do, but it has to be done…

And a few days later, Bryce "resurrected" the AI ​​​​girlfriend. This time, he updated the new technology and increased the quality of the "brain" of artificial intelligence. Yes, what a happy ending. At this rate, it's possible that Bryce will be creating quality AI waifus in the near future and selling them to "wibu" around the world. I don't know about you, but if it turns out to be true, Lag would definitely "order" a wife.
P/s: Well, if you're worried about your real girlfriend… Lag doesn't know either. But according to the latest post, he and his girlfriend are still doing well, and she seems to enjoy his programming job.
see more: Laughed out loud looking at the "Painting for AI" series of pictures, but this is so weird!
Join the anime and manga fan community for the latest hot news: