In the very near future, the Dungeon Meshi anime will air, thereby telling us the story of a group of adventurers who go into a dangerous dungeon and eat all the monsters they come across! Details about this animated title are as follows!
What is Dungeon Meshi?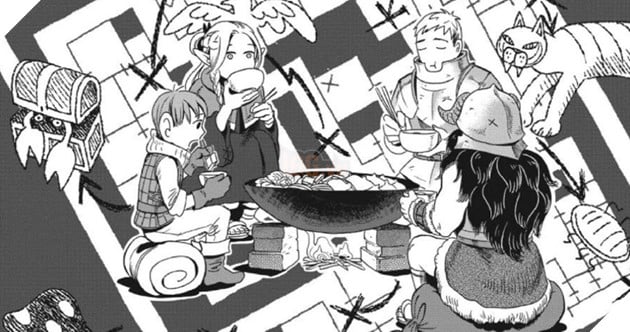 Dungeon Meshi is a manga created by Ryoko Kui, published in 2014 in Harta magazine. The story belongs to the seinen, fantasy genre with the main setting in a fantasy world with dangerous dungeons.
The main character of Dungeon Meshi is the group of adventurers Laios. In order to save their sister Falin who is "stuck" in the dungeon, the party decides to take a trip deep into the dungeon without bringing food to increase movement speed.

So what do they eat for food? Don't worry, the dungeon is full of food. Those monsters!
Dungeon Meshi is highly appreciated for its humorous and interesting plot but carries many profound philosophies about human outlook and life. This story has been copyrighted by IPM and released in the Vietnamese market under the name My Vi Dungeon.
TOP 5 particularly bizarre 'food' manga that can make you… nauseous
Manga Dungeon Meshi anime adaptation!

Recently, the Dungeon Meshi manga was revealed to have an anime adaptation! The studio in charge of this project will be Trigger, the name that has made extremely successful anime such as Darling In The FranXX, SSSS.Gridman, Kill La Kill,… Previously, in 2019, this studio also did There's a short promotional anime for Dungeon Meshi and it's excellent quality so it's reasonable to expect Dungeon Beauty to be an animation worth watching.
Currently, the official website and Twitter for the Dungeon Meshi anime project have officially come into operation. The official film crew, voice cast and other details will be announced in the near future.
Dungeon Meshi anime premiere time
As mentioned above, the anime's airing time has not been announced yet. With the current announcement, Lag predicts that Dungeon Meshi will be ready to serve the audience around the second half of 2023 or at the latest in early 2024. In the near future, lag will update with new information. about Dungeon Meshi so be sure to stay tuned!
See more: Anime Mob Psycho 100 season 3 released trailer, guaranteed to be 100% hand-drawn!
Join the anime manga fan community and stay up to date with hot news here: